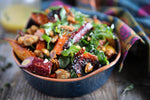 Roasted Beet & Carrot Salad with Lavender Balsamic Vinegar
Ingredients:
2 bundles of golden beets (about 10–12 beets), cut in half*

1 bundles of tricolor carrots, peeled and chopped

2 tablespoon high heat avocado oil

salt, to taste

garlic powder, to taste

For Vinaigrette:
juice of 2 lemons
1/4 cup Meyer Lemon extra virgin olive oil
1/4 cup Lavender Balsamic Vinegar
2 tablespoons honey
1 tablespoons fresh thyme leaves, roughly chopped
1 garlic clove, minced
pinch of salt
For the candied nuts:
1/4 cup sliced almonds
1/4 roughly chopped walnuts
3 tablespoons maple or coconut sugar
1/8 teaspoon cayenne pepper
pinch of salt
4 cups arugula
1 tablespoon hemp hearts
Instructions:
Preheat oven to 375 degrees F. Toss beets and carrots in avocado oil and sprinkle with salt and garlic powder on top. Place in the oven to bake for 30-35 minutes, until veggies are golden brown and tender.

While the veggies bake, place all ingredients for the vinaigrette in a jar and shake well until combined. Set aside.

Place a medium pan over medium heat. Add almonds and walnuts to the pan and cook for about 6 minutes until they begin to become golden and fragrant. Then add sugar, cayenne pepper and salt. Use a spatula to toss the nuts in the sugar mixture until the sugar melts and coats the nuts. Remove from heat once melted, about 2 minutes.

Add arugula, roasted beets and carrots and candied nuts to a large bowl and toss in the vinaigrette then top it all off with hemp hearts!

Enjoy!