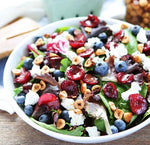 Lavender Balsamic Grilled Cherry, Blueberry, Goat Cheese, and Candied Hazelnut Salad
Ingredients:
3 tablespoon brown sugar

3 tablespoons hot water

1 cup shelled hazelnuts

8-10 cups mixed salad greens

2 cups cherries pitted and halved

2 tablespoons Blood Orange Extra Virgin Olive Oil

1 cup blueberries

4 ounces crumbled goat cheese

Additional Lavender Balsamic Vinegar as needed
Instructions:
First, candy the hazelnuts. Preheat the oven to 350 degrees F. In a small bowl, whisk together the brown sugar and hot water. Add the hazelnuts and toss until well coated. Pour mixture onto a large baking sheet that has been lined with a Silpat baking mat or parchment paper. Bake until hazelnuts are crisp, about 12-15 minutes. Remove from oven and let cool. Once cooled, break hazelnuts apart. Roughly chop and set aside.

Preheat grill to medium heat. Place cherries in a medium bowl. Add 2 tablespoons of Lavender balsamic vinegar and toss well. Place cherries on a grill pan and grill until tender, about 5 minutes. Use a spatula to turn occasionally while cooking.

In a large bowl, add greens, grilled cherries, blueberries, goat cheese, blood orange extra virgin olive oil and candied hazelnuts. Drizzle with additional lavender balsamic vinegar and serve immediately.
Enjoy!