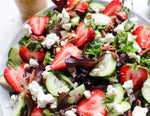 Strawberry and Lavender Balsamic Vinegar Spring Salad
Ingredients:
4 cups baby Mixed Lettuces

¼ cup (2 oz.) Goat Cheese

2 cups fresh strawberries, halved or quartered

½ cucumber, sliced

¼ cup chopped pecans

1/2 Cup of Herbes De Provence Extra Virgin Olive Oil
1/4 Cup Lavender Balsamic Vinegar
1/4 Cup Strawberry Balsamic Vinegar
Instructions:
Place bed of greens down on serving platter.

Top with strawberries, cucumber, crumbled goat cheese, and chopped pecans.

To make dressing: In a small bowl or container with a lid, combine vinaigrette ingredients until well combined. Top salad with desired amount of dressing and serve immediately.