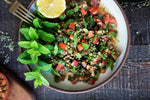 Lavender Balsamic Lentil Salad
Ingredients:
1 1/2 Cups Puy Lentils

4 Cups water

4 medium tomatoes- (2 cups finely diced)

1 large bunch Italian Parsley- finely chopped ( about 1 1/2 Cups)

1/3 C finely diced Red onion or shallot

1/4 C finely chopped fresh mint

1 tsp kosher salt

1 tsp cinnamon

2 tsp allspice

3 Lavender Balsamic Vinegar

3 Garlic Extra Virgin Olive Oil

1/4 C lemon juice and zest of one lemon

Cracked Pepper to taste
Instructions:
Soak lentils in cold water 8 hours, or overnight.

In a medium pot bring lentils and water to a boil. Turn down heat, cover and let simmer on med-low to low heat for 20-25 minutes, or until just tender. Strain and rinse with cold water until lentils are nice and cold.

While lentils are simmering. Finely dice tomatoes, onion, parsley and mint, and place in a medium sized bowl.

Toss in rinsed cold lentils and mix in olive oil, lemon juice, ½ of the zest, kosther salt, pepper, Lavender Balsamic Vinegar, cinnamon and allspice.

Miix. Adjust salt and lemon if necessary, and let the flavors meld for at least 10 minutes. Chill until ready to serve. Garnish with remaining lemon zest.

Enjoy!