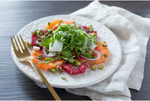 Citrus Salad with Arugula and Truffle Lemon Dressing
Ingredients
2 blood oranges, peeled, pith removed and sliced crosswise ¼ inch thick
2 Cara Cara or Navel oranges, peeled, pith removed and sliced crosswise ¼ inch thick
2 tablespoons fresh mint leaves, chopped
2 tablespoons roasted salted pistachios, chopped
½ small red onion, halved and sliced thin crosswise
3 cups baby arugula
4 tablespoons

 

Seven Barrels Truffle Oil
2 tablespoons fresh lemon juice
Kosher salt and freshly ground black pepper, to taste
2 tablespoons fresh Ricotta Salata, crumbled (or 8 thin slices, divided)
Instructions
Layer the orange slices in alternating colors on a large plate or a couple of small plates.
Top the layered oranges with chopped mint, pistachios, and sliced red onions on the plate(s).
Toss the arugula with truffle oil, lemon juice, salt and pepper in a mixing bowl.
Place a pile of arugula on top of the layered oranges and top with the crumbled ricotta cheese and additional freshly ground black pepper if desired.
Serves 4.
Note: If you can't find fresh Ricotta Salata cheese, you can also substitute another tangy sheep's milk cheese such as Manchego or Aged Pecorino Romano. Fresh sliced Mozzarella or Burrata cow's milk cheese could also substitute nicely for a milder flavor.