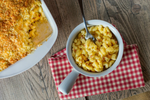 Ingredients
Kosher salt, to taste
1 pound elbow macaroni (or pasta of choice)
3 tablespoons

 

Seven Barrels Truffle Oil
6 tablespoons unsalted butter
3⁄4 cup dried panko bread crumbs
1 cup grated Parmesan cheese
4 ounces pancetta or bacon, cooked and crumbled (optional)
1⁄4 cup all-purpose flour
3 1⁄2 cups whole milk
1 ½ cups Gruyère cheese, grated
1 ½ cups Sharp Cheddar cheese, grated
1 ½ cups Fontina cheese, grated
½ teaspoon sweet paprika
Freshly ground black pepper, to taste
Instructions
Preheat oven to 350°.
Bring a large saucepan of salted water to a boil. Add the pasta and cook about 7 minutes. Drain pasta, transfer to a bowl, stir in truffle oil and set aside.
Melt 3 tablespoons of the butter in large saucepan over low heat. Add the bread crumbs and Parmesan cheese, toss to combine. Transfer breadcrumbs to a small bowl; set aside.
Cook the pancetta or bacon per package directions and drain on paper towels. Once cooled, crumble and set aside.
Wipe out the saucepan and set over medium heat. Melt the remaining butter and whisk in the flour for 1-2 minutes until smooth and light golden brown color. Whisk in the milk and cook, continuing to whisk often, until the sauce heats and thickens, coating the back of a spoon, about 8-10 minutes.
Stir in the Gruyère, 1 cup of the Cheddar, 1 cup of the Fontina and whisk until the cheese is smooth and melted thoroughly. Add the cooked pancetta or bacon (if using), season with salt and pepper and paprika, to taste.
Remove pan from heat and stir in the cooked pasta. Pour the mixture into a 2-quart baking dish and top with the remaining ½ cup Cheddar and ½ cup Fontina. Sprinkle bread crumb mixture over the top and bake until golden brown and bubbly, about 30 minutes. Let cool for 10 minutes before serving.
Serves 6-8.