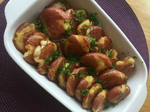 Crispy Smashed Truffle Potatoes
Ingredients
12-15 small red, white or fingerling potatoes
3-4 teaspoons sea salt
2 teaspoons

 

Seven Barrels Truffle Oil
2 tablespoons fresh parsley, minced
Instructions
Put the potatoes in a large saucepan and cover with water. Add 2 teaspoons salt to the water. Bring to a boil over high heat, reduce to a simmer, and cook the potatoes until they are very tender but not overcooked, about 15 to 20 minutes.
Remove the potatoes from the water, and let them drain briefly on a double layer of dishtowels on a cutting board or countertop.
Using another folded dishtowel, gently press down on one potato with the palm of your hand to gently flatten it to about 1/2 inch thick. Repeat until all the potatoes are flattened.
Cover a large rimmed baking sheet with aluminum foil; put a sheet of parchment on top of the foil. Transfer the flattened potatoes to the baking sheet and let them cool.
Heat the oven to 450°F. Pour the olive oil over the potatoes and sprinkle with the remaining salt, making sure potatoes are well coated on both sides.
Roast the potatoes until they're crispy and brown around the edges, about 20 to 30 minutes, turning over once gently with a spatula or tongs halfway through cooking.
Drizzle each potato with a few drops of the truffle oil and parsley, sprinkle with additional sea salt, if desired. Serve hot.
Serves 4-6.