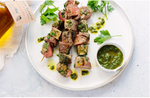 Grilled Chimichurri Steak Skewers
Preparation: 10 minutes
Cook time: 20 minutes
Serves 4
Ingredients:
½ cup Italian parsley leaves
½ cup cilantro leaves
2 tablespoons red wine vinegar
1 garlic clove, chopped
½ teaspoon ground cumin
½ teaspoon salt, plus additional for seasoning steak
½ teaspoon crushed red chili pepper
1 1/2 pounds boneless beef sirloin steak
Instructions:
Heat an outdoor grill to medium-high heat for direct grilling.
To make the chimichurri sauce, place the parsley, cilantro, olive oil, vinegar, garlic, cumin, salt and crushed red chili in a blender or food processor. Process to form a textured sauce, about 30 seconds.
Slice the steak into 2-inch cubes. Season to taste with salt. Thread the meat onto skewers.
Grill the skewers, until medium-rare or cooked to your preference, 3-5 minutes per side.
Transfer to a serving platter and drizzle with some of the chimichurri. Serve with additional sauce on the side.
Enjoy!