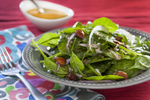 Spinach Salad with Blood Orange Vinaigrette
Ingredients
2 to 3 large handfuls of baby spinach
¼ red onion, sliced thin
¼ cup roasted salted almonds
6 tablespoons

 

Seven Barrels Blood Orange Olive Oil
2 tablespoons red or white wine vinegar
1 teaspoon grainy or Dijon mustard
½ teaspoon honey
½ teaspoon garlic salt
½ teaspoon dried minced onion
½ teaspoon fresh thyme leaves
Freshly ground black pepper, to taste
Instructions
Toss together spinach, onion and almonds in a large salad bowl.
In a small mixing bowl, slowly whisk together olive oil and vinegar, mustard, honey and seasonings until well blended into a dressing. Pour dressing over the salad and serve.
Note: You can also add some crumbled feta or goat cheese and sliced oranges to the salad for extra flavor.
Serves 4-6