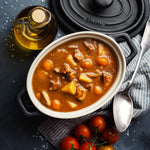 2 tbsp. Rosemary Extra Virgin Olive Oil
2 tbsp. Bourbon Balsamic Vinegar
1 1/2 lb. ground turkey
1 small onion diced
2 garlic cloves, minced
1 14.5-ounce can whole peeled tomatoes, crushed by hand
2 cups low-sodium chicken brother
1 tbsp tomato paste
1 tsp. dried parsley
1/4 tsp. ground oregano
1/2 tsp. kosher salt
1/4 tsp. black pepper
pinch of cayenne pepper
2 carrots, peeled and sliced
2 large red potatoes, cut into 1 inch chucks
1 large red bell pepper, chopped
8 oz. green beans, chopped
Instructions:
Heat the olive oil in a large Dutch oven over high heat. Add the turkey, onion and garlic, bourbon balsamic and cook, stirring, until the turkey is browned, about 8 minutes.
Add the tomatoes and their juices, the chicken broth, tomato paste, parsley, oregano, salt, black pepper and cayenne. Stir to combine.
Throw in the carrots, potatoes and bell pepper. Stir everything together, then bring the mixture to a boil. Reduce the heat, cover and simmer, stirring occasionally, until the potatoes are almost tender, 10 to 15 minutes.
Stir in the green beans, cover and cook until the beans are crisp-tender and the potatoes are tender but not mushy, another 4 or 5 minutes. If the soup is too thick for your taste, just splash in more broth until it's the consistency you like. Season to taste before serving.
Enjoy!