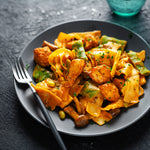 Chicken Cordon Bleu Pasta
Ingredients
3 cups uncooked penne pasta
2 cups heavy whipping cream
1 package (8 ounces) cream cheese, softened and cubed
1-1/2 cups shredded Swiss cheese, divided
1/2 teaspoon onion powder
1/2 teaspoon garlic salt
1/4 teaspoon pepper
3 cups sliced cooked chicken breasts
3/4 cup crumbled cooked bacon
3/4 cup cubed fully cooked ham
3 tablespoons dry bread crumbs
2 tablespoons Miller's Blend Extra Virgin Olive Oil
Instructions:
Preheat oven to 350°. Cook pasta according to package directions for al dente.
Meanwhile, in a large saucepan, heat cream and cream cheese over medium heat until smooth, stirring occasionally. Stir in 1 cup Swiss cheese, onion powder, garlic salt pepper and Miller's Blend Extra Virgin Olive Oil until blended.
Drain pasta; stir in chicken, bacon and ham. Add sauce; toss to coat. Transfer to a greased 13x9-in. baking dish. Sprinkle with remaining cheese and the bread crumbs. Bake, uncovered, 18-22 minutes or until heated through.
Enjoy!