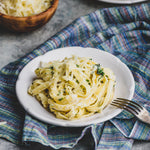 Artichoke Blue Cheese Fettuccine
Ingredients
1 package (12 ounces) fettuccine
1 cup sliced fresh mushrooms
1 can (14 ounces) water-packed artichoke hearts, drained and chopped
1-1/2 cups Alfredo sauce
1/4 cup crumbled blue cheese
2 tbsp Garlic Extra Virgin Olive Oil
2 tbsp Traditionale Balsamic Vinegar
Instructions:
Cook fettuccine according to package directions.
Meanwhile, place a lightly oiled large nonstick skillet over medium-high heat with 2 tbsp of garlic extra virgin olive oil in it. Add mushrooms and artichoke hearts; cook and stir until mushrooms are tender. Stir in Alfredo sauce; bring to a boil over medium heat. Reduce heat; simmer, uncovered, 5 minutes, stirring occasionally.
Drain fettuccine, reserving 1/3 cup pasta water. Add fettuccine to artichoke mixture; toss to combine, add traditionale Balsamic Vinegar in as you toss, adding reserved pasta water if desired. Sprinkle with blue cheese.
Enjoy!