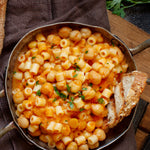 Ditalini With Chickpeas and Rosemary Garlic Extra Virgin Olive Oil
Ingredients:
1 Medium onion, quartered

1 Medium carrot, peeled, cut into 1-inch pieces

1 Celery stalk, cut into 1-inch pieces

2 Garlic cloves, 1 whole, 1 chopped

1/2 cup of flat-leaf parsley leaves

1/4 teaspoon crushed red pepper flakes

1/4 cup Rosemary Extra Virgin Olive Oil

1/4 cup Garlic Extra Virgin Olive Oil

Kosher Salt

1 tbsp tomato paste

2 15-ounce cans of chickpeas, rinsed

1 pound ditalini or elbow macaroni

1 tablespoon chopped fresh rosemary 
Instructions:
Pulse onion, carrot, celery, whole garlic cloves, parsley, and red pepper flakes in a food processor until finely chopped; transfer to a small bowl and set aside. Wipe out food processor bowl and set aside.
Heat 1/4 cup of rosemary extra virgin olive oil in a large heavy pot over medium heat; add reserved vegetable mixture, season with salt, and cook, stirring often, until golden, 8-10 minutes. Stir tomato paste and 1 cup water in a small bowl to combine; add to pot. Cook, scraping up any browned bits from bottom of pot. Bring to a boil, reduce heat, and simmer until liquid has almost evaporated, 5-8 minutes.
Add chickpeas and 2 cups water to pot and simmer for 15 minutes to let flavors meld. Transfer 1 cup chickpea mixture to food processor; purée until smooth, then stir back into sauce to thicken.
Meanwhile, cook pasta in a large pot of boiling salted water, stirring occasionally, until al dente. Drain pasta, reserving 1 1/2 cups pasta cooking liquid.
Add pasta and 1/2 cup pasta cooking liquid to sauce and stir to coat. Increase heat to medium and continue stirring, adding more pasta cooking liquid as needed, until sauce coats pasta.
Heat remaining 1/4 cup of Garlic extra virgin olive oil in a small sauce­pan over medium-low heat; add chopped garlic and rosemary and cook until sizzling stops, about 1 minute. Divide pasta among bowls and drizzle with garlic-rosemary oil.
Enjoy!