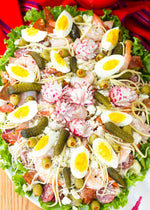 Ingredients:
For the Dressing/Marinade:

3/4 cup chopped parsley

1/2 cup Prickly Pear Balsamic Vinegar

2 tablespoons capers

1 tablespoon Dijon mustard

6 green onions, chopped

1 clove garlic

1 piece fresh ginger (1 inch) peeled and chopped

1 tablespoon honey, if needed

1/2 teaspoon salt

1/4 teaspoon ground black pepper

1 cup Lime olive oil

For the Salad:
1 pound chicken breast, poached and cut into bite sized pieces
1 pound medium shrimp, cooked
3 ounces Spanish chorizo (cooked and uncured) sliced into strips
8 ounces longaniza sausage or linguica sausage, cooked and sliced
3 ounces salami, sliced
4 ounces ham, sliced into strips
4 ounces mortadella, cut into strips
1 small round of queso fresco, crumbled
1/2 pound Parmesan cheese or zacapa, shredded
1 head red leaf lettuce
1 head green leaf lettuce
1 pound small golden potatoes, cut into bite size pieces
1 head cauliflower, cut into florets
1/2 pound asparagus cut into 1- to 2-inch pieces
1 pound frozen mixed vegetables, carrots, corn, peas and green beans
12 ounces pickled beets, drained
4 hard boiled eggs, sliced or wedged
5 radishes, cut decoratively for garnish
3 ounces Spanish olives
3 ounces mini gherkins
2-3 pacayas, cut into pieces
1 bay leaf
1 teaspoon dried thyme
Instructions:
Set a large pot of water over high heat and add 2 teaspoons salt. Once boiling, poach the chicken with a bay leaf and thyme, until cooked through. about 15 minutes. Meanwhile, prepare any meats that need cooking or slicing. Chill the meats.
Refill the pot of water and add more salt. Bring to a boil. Cut the potatoes into bite size pieces and boil for 10-12 minutes. Then add in the cauliflower florets and boil another 3 minutes. Finally toss in the asparagus, and frozen vegetables. Simmer another 1-2 minutes. Drain all vegetables. Prepare all remaining vegetables. Chill.
Puree all dressing ingredients, except olive oil, in a blender until smooth. Then with the blender still running, drizzle in the oil slowly until emulsified.
If desired, marinate any meats or vegetables in 1 cup of dressing for a minimum of 30 minutes then remove and retain dressing for salad. (Optional)
On a large platter arrange the lettuce leaves, half the meats, cheeses, and vegetables. Repeat with a second layer.
Garnish with gherkins, olives, radishes, eggs and pacayas. Drizzle with the dressing.
Enjoy!