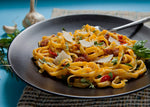 Fettuccini with Butternut Squash Sauce & Pancetta
Ingredients
2 Tbsp olive oil
4 ounces pancetta, diced small
1 package cut-up butternut squash
1 onion, chopped
2 cloves garlic, minced
15-ounce can chicken broth
1 pound fettuccine, cooked; reserve 1 cup cooking liquid
2 Tbsp Tuscan Olive Oil
8 fresh sage leaves, torn
Parmesan Cheese, shaved slices
Instructions
Heat oil in a large skillet. Add pancetta and cook until crisp, about 6 minutes. Transfer to a bowl lined with paper towel to drain and set aside.
Using the same skillet, saute squash, garlic & onion for 5-6 minutes.
Add broth and cook for 15 -20 minutes longer until squash is soft. Cool and puree mixture in food processor. Season with salt and pepper to taste.
Cook pasta until al dente. Drain, reserving 1 cup pasta cooking liquid.
Right before serving, combine pasta, squash puree and ½ c pasta cooking liquid and heat over medium. Finish with 2 Tbsp Tuscan Olive Oil and torn sage. Toss lightly.
Arrange pasta in bowl topped with chopped pancetta and shaved Parmesan.
Save