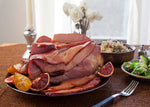 Ingredients
2 shallots, minced
3 Tbsp Blood Orange Olive Oil
½ cup brown sugar
½ tsp ground ginger
1 cup orange juice
1 small fully cooked ham
12-16 cloves
3 blood oranges, quartered
Instructions
Preheat oven to 350.
In a small sauce pan heat blood orange olive oil and add shallots for 2 minutes.  Add the brown sugar and ginger and cook over low heat until sugar has dissolved. Add orange juice and continue to cook over low heat until thickened.
To prepare the ham, insert cloves spacing them evenly with a knife.  Place the ham in a roasting pan, with a little water.  Bake the ham for 1 hour + 15 minutes.   When halfway done brush the ham with the half of the glaze and place the blood oranges around the ham.
After 1 hour in the oven, brush the ham with remaining glaze and cook until crust is golden brown.  Let rest for 15 minutes before slicing.  Garnish with the roasted blood oranges.
Save