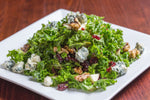 Fall Kale Salad with Apples, Walnuts, Blue Cheese + Dried Cherries
Salad Ingredients:
2-3 large handfuls baby kale, washed and chopped (about 4 ounces)
1 medium red apple, sliced and cut into small wedges
1/4 cup dried tart cherries (or dried cranberries)
1/3 cup toasted walnuts, roughly chopped
1/3 cup crumbled blue cheese
Salad Dressing Ingredients:
1 tablespoon Dijon mustard
1 teaspoon honey
1 teaspoon dried minced onions or shallots
½ teaspoon Himalayan sea salt
Freshly ground black pepper, to taste
Instructions:
In a large salad bowl, toss the kale, apples, cherries and toasted walnuts together.
In a small mixing bowl, slowly whisk together olive oil and vinegar, mustard, honey, dried minced onions and salt and pepper until blended well.
Pour dressing over the salad and toss together. Top with crumbled blue cheese and serve.
Serves 4.
Save