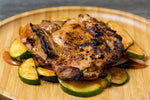 Herbes de Provence Grilled Chicken w/ Sautéed Zucchini and Shallots
Ingredients
Prepare the marinade and chicken:
1 medium shallot
4 garlic cloves
¼ cup fresh lemon juice
Zest of 1 lemon
1 tablespoon Seven Barrels White Balsamic Vinegar
1 tablespoon fresh thyme, chopped fine
1 teaspoon dried oregano
Sea salt and freshly ground black pepper, to taste
2 pounds of boneless chicken breasts (about 4-6 large breast halves)
Cooking spray (for grill)
Prepare the marinade
To make the marinade, add to a blender the Seven Barrels Herbes de Provence Extra-Virgin Olive Oil, shallot, garlic, lemon juice and zest, Seven Barrels White Balsamic Vinegar, fresh thyme, oregano, salt and pepper, puree until smooth. Reserve about ¼ cup of the marinade, covered in a small bowl in the refrigerator. Pour the vinaigrette dressing over the chicken breasts in a large plastic bag (or in a large covered dish) and refrigerate for at least an hour, up to overnight.
Grill the chicken
Preheat grill to high and spray generously with cooking spray. Remove the chickens from the marinade and discard old marinade. Lightly season chicken with salt and pepper, and grill for about 20 minutes, turning and basting often with reserved marinade until chicken is crisped and cooked through (finished temperature should read 165 degrees F in the thickest part of the chicken.) Allow the chicken to rest for 5 minutes before serving.
Sauté the vegetables
Rinse the zucchini and pat dry. Trim the ends (do not peel), and cut into 1/8 inch slices.Heat 2 tablespoons Seven Barrels Herbes de Provence Extra-Virgin Olive Oil in a large nonstick skillet over high heat. Sauté the zucchini for approximately 5 minutes, shaking the pan and tossing gently. Add salt and pepper to taste. Add the shallots and cook for another minute. Serve sautéed veggies immediately, with Herbes de Provence Grilled Chicken.
Serves 4.
Save