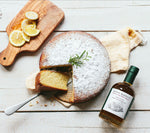 Meyer Lemon Olive Oil Cake
Preparation: 10 minutes
Cook time: 40 minute
Makes one 9-inch cake
Ingredients:
1 ½ cups all-purpose flour
1 cup granulated sugar
1 teaspoon salt
½ teaspoon baking soda
½ teaspoon baking powder
5 egg yolks
Grated zest of 1 lemon
1 tablespoon fresh lemon juice
½ cup buttermilk
5 egg whites
Powdered sugar, for serving
Instructions:
Preheat oven to 350 degrees. Coat the bottom and sides of a 9-inch springform pan with cooking spray.
Whisk together the flour, ¾ cup sugar, salt, baking soda and baking powder in a medium bowl. In another bowl, whisk the egg yolks, olive oil, lemon zest, lemon juice and buttermilk until blended.
Beat the egg whites in a standing mixer fitted with the whisk attachment until they're foamy. Add the remaining ¼ cup sugar and continue beating until the whites hold soft peaks.
Pour the egg yolk mixture over the flour mixture and stir just to combine. Fold in the egg white mixture in two additions until no streaks of white remain.
Transfer batter to the prepared pan. Bake until the cake is golden brown and the top springs back when lightly pressed, 35-40 minutes. Cool 15 minutes, then run a knife around the edge of the pan to loosen the cake. Release the side of the pan and place on a rack to cool completely.
Dust the top of the cake with powdered sugar and serve.
Enjoy!