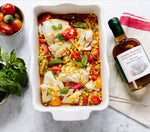 Sweet Basil Baked Cod with Summer Corn and Cherry Tomatoes
Preparation: 10 minutes
Cook time: 25 minutes
Serves 4
Ingredients:
4 6-ounce cod fillets
Kosher salt
1 cup sweet corn kernels
1 cup cherry tomatoes, sliced in half
1 garlic clove, finely chopped
1 green onion (white and green parts), chopped
½ teaspoon crushed red chili, or to taste
¼ cup fresh basil leaves, torn or sliced into ribbons
Instructions:
Preheat oven to 400 degrees.
Toss the corn, cherry tomatoes, garlic, green onion, chili, ½ teaspoon salt and 2 tablespoons of the olive oil in a medium bowl. Transfer to a 3-quart baking dish.
Season the cod generously on both sides with salt and nestle into the corn mixture in the baking dish.
Bake 20-25 minutes, until the cod is pure white and flakes easily with a fork.
Sprinkle the basil over the top and serve.
Enjoy!