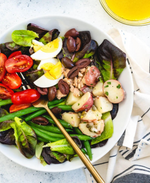 Ingredients
5 ounces Red Baby Bibb lettuce
8 eggs
1 1/2 pounds baby red potatoes
1 pound fresh green beans
1 small shallot (2 tablespoons minced)
2 tablespoons white wine vinegar
2 tablespoons capers, drained
½ tablespoon fresh parsley (optional)
½ cup Kalamata olives
1 pint cherry tomatoes or 1 large tomato
2 cans tuna (omit for vegetarian)
2 tbsp Cucumber Balsamic Vinegar
2 tbsp Garlic Extra Olive Oil
Olive oil
Kosher salt
Fresh ground pepper
Instructions
Cook the hard boiled eggs: Follow our method for Perfect Hard Boiled Eggs (or Instant Pot Hard Boiled Eggs). Note that you can use the same ice bath for the green beans below. The eggs are also perfect for making in advance.

Boil the potatoes and beans: Fill a large pot with cold water and add 1 tablespoon kosher salt. Add the whole potatoes and bring to a boil. Meanwhile, working in batches slice off the stem ends of the green beans.

Blanch the beans: Right when the water comes to a boil, start a timer for 5 minutes and place the green beans in the pot with the potatoes. Boil the beans for about 5 minutes until tender but still bright green. Prepare a large bowl of ice water (or use the same one as for the hard boiled eggs). Right when the beans are tender, remove them from the boiling water with tongs and transfer them to the ice bath. Remove the beans and dry them with a towel, then mix them with a few pinches of salt and fresh ground pepper.

Finish the potatoes: Keep cooking the potatoes for about 3 minutes until fork tender (taste test to check). While they are cooking, mince 2 tablespoons shallot. When the potatoes are done, drain them. When they are cool enough to handle, slice them into bite sized pieces. Place them in a bowl and gently mix in the minced shallot, white wine vinegar, ½ teaspoon kosher salt, and ¼ cup warm water. Let stand for 5 minutes, gently stirring occasionally. Then add the capers, parsley (optional) 1 tablespoon olive oil, and a few grinds black pepper. Taste and add additional salt if necessary.

Make the dressing: Combine Cucumber Balsamic Vinegar and Garlic Extra Virgin Olive Oil together in a small bowl and mix together.

Prep the salad ingredients: Slice the tomatoes into wedges (or cherry tomatoes in half) and sprinkle with a little kosher salt.

Drain the tuna and flake it using a fork, then add a few pinches of kosher salt and a drizzle of olive oil.

Serve: To serve, in large shallow bowls or on large platters, add Red Baby Butter Lettuce leaves. Top with green beans, hard boiled eggs, tomato, tuna, Kalamata olives, and potatoes. Drizzle with Lemon Vinaigrette and serve.

Enjoy!