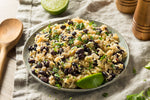 Ingredients
2 cups water
1 cup uncooked long grain rice
15-ounce can black beans, rinsed and drained (or 1 ½ cups cooked or Instant Pot black beans)
1 red bell pepper
1 yellow bell pepper
5 green onions
¼ cup Lime Extra Virgin olive oil
¼ cup Sriracha Mango White Balsamic vinegar
1 tablespoon Dijon mustard
1 teaspoon ground cumin
1 large garlic clove
¾ teaspoon kosher salt
¼ teaspoon freshly ground black pepper
Instructions
Pour 2 cups of water into a medium saucepan. Bring to a boil, then add the uncooked rice, stir to combine, and return to a boil. Cover pan, and reduce heat as low as possible. Simmer without opening the lid for 15 minutes, until the rice is tender and the water is absorbed. (Or, use our Stovetop White Rice, Stovetop Brown Rice, or Instant Pot Rice methods.)

Finely chop the peppers. Thinly slice the green onions. Mince the garlic.
In a large mixing bowl, combine the cooked rice, black beans, chopped red and yellow peppers, and scallions, and toss to combine.

In a small bowl or measuring cup, combine the Lime Extra Virgin live oil, Sriracha Mango white balsamic vinegar, mustard, cumin, garlic, salt, and black pepper, Whisk thoroughly to combine, then pour over the rice mixture. Toss gently to coat, then either serve immediately or keep refrigerated for up to 3 days.