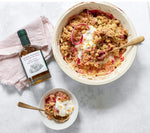 Orange Rhubarb Crisp
Preparation: 10 minutes
Cook time: 35 minutes
Serves 4
Ingredients:
Filling:
1 pound rhubarb, sliced into 1-inch pieces
2 tablespoons cornstarch
1/3 cup granulated sugar
Juice and zest of 1 orange
Topping:
1 cup quick cooking or old-fashioned oats
1 cup all-purpose flour
½ cup granulated sugar
¼ cup light brown sugar
½ teaspoon salt
Whipped Greek yogurt for serving (optional)
Instructions:
Preheat oven to 375 degrees.
Put the rhubarb, cornstarch, sugar and orange juice and zest in a deep pie dish and toss to combine.
To make the topping, combine the oats, flour, sugar, brown sugar, salt and olive oil in a medium bowl. Crumble the mixture evenly over the rhubarb.
Bake 30-35 minutes, until the topping is golden brown.
Serve warm or at room temperature topped with yogurt, if you like.
Enjoy!