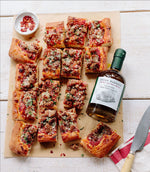 Spicy Sheet Pan Italian Sausage Pizza
Preparation: 10 minutes
Cook time: 35 minutes
Serves 4
Ingredients:
3 tablespoons Seven Barrels Garlic or Tuscan Herb Extra Virgin Olive Oil
1 pound bulk hot Italian sausage
½ cup canned whole peeled tomatoes
1 teaspoon dried oregano
1 teaspoon minced garlic
½-1 teaspoon crushed red chili
½ teaspoon salt
1 pound pizza dough, at room temperature
½ cup grated Parmesan cheese
¼ cup chopped fresh parsley
Instructions:
Preheat oven to 450 degrees.
Heat 1 tablespoon of the olive oil and the sausage in a large skillet over medium-high heat. Cook the sausage until is browned and cooked through, about 10 minutes.
Combine the tomatoes, oregano, garlic, chili and salt in a bowl, lightly crushing the tomatoes with your hands.
Brush another tablespoon of the oil over the bottom of a 10½ x 15½ -inch pan. Place the dough in the pan. Flatten and stretch it to fit into the corners, allowing it to relax for a few minutes if it begins to resist.
Cover the dough with the tomato mixture, leaving a border for the crust. Crumble the sausage evenly over the top. Bake 20-25 minutes, until the crust is golden brown.
Sprinkle the cheese and parsley over the top and drizzle with the remaining tablespoon olive oil.
Serve and enjoy!