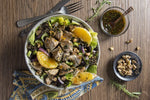 Wild Rice & Turkey Bowl with Cranberries and Oranges
Ingredients
Turkey
2 cups roasted turkey (light and/or dark meat – large slices or shredded)
Vinaigrette
3 tablespoons fresh orange juice
3 tablespoons Seven Barrels Raspberry Balsamic Vinegar
2 tablespoons Seven Barrels Meyer Lemon Olive Oil
2 tablespoons fresh tarragon, chopped
1 teaspoon fresh garlic, grated
1 teaspoon minced orange zest
½ teaspoon ground cumin
½ teaspoon black pepper
½ teaspoon kosher salt
¼ teaspoon ground cinnamon
Bowl
3 cups wild rice, cooked
1 teaspoon orange zest, minced
½ cup chopped walnuts, toasted
6 cups romaine hearts, sliced
¾ cup fresh orange segments, halved
¾ cup celery, sliced
½ cup red onion, sliced
½ cup dried cranberries
Instructions
Prep the cooked turkey breast by shredding the meat into bite sized pieces or slicing it into large pieces for the salad.
For the vinaigrette, whisk together orange juice, Seven Barrels Raspberry Balsamic Vinegar, Seven Barrels Meyer Lemon Olive Oil, tarragon, grated garlic, 1 teaspoon orange zest, cumin, pepper, salt, and cinnamon.
For the bowl, combine cooked wild rice with 1 teaspoon orange zest. Toast chopped walnuts in a small sauté pan over medium-low heat for about 5 minutes until lightly golden brown, set aside.
Divide cooked turkey, rice, romaine, orange segments, celery, red onion and dried cranberries among four serving bowls; drizzle with vinaigrette and garnish with toasted walnuts.
Serves 4.