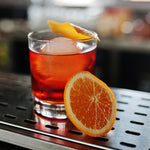 Italian Blood Orange Vodka Soda
Ingredients:
1 Cup of Italian Blood Orange Soda

2 Shots of Vodka

2-4 Sprigs of Mint

2 Blood Oranges

Ice
Instructions:
Slice 1 blood orange into thin slices. Cut one blood orange in half.

Add ice to two glasses. Insert blood orange slices onto the inside of the glass.
Move the ice to hold the oranges into place.

Add one shot of vodka into each glass.
Add one ounce of Pink Grapefruit White Balsamic Vinegar to each glass.

Top with Italian Blood Orange Soda and stir gently.

Squeeze 1/2 a blood orange into each drink.

Garnish with mint and a slice of blood orange on the rim of the glass.

Enjoy!