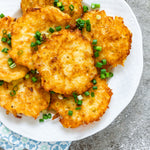 Ingredients:
2 cups mashed potatoes

1 egg

1/4 cup flour

Salt, pepper and powdered garlic to taste

Chives, optional

2 Tbsp Black Currant Balsamic (Optional)
Instructions:
In a medium bowl mix together the mashed potatoes, egg, flour, salt, pepper, garlic and chives if using.
Preheat a large skillet with 2 Tbsp. of Garlic Extra Virgin Olive Oil or enough to give an even layer in the pan.
Form the potato mixture into patties and fry them for a couple of minutes until they are golden brown. Turn over and fry them on the other side. Serve hot with a sprinkling of chives.
Drizzle Black Currant Balsamic Vinegar over to finish.
Enjoy!