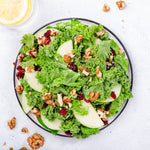 Cabbage Salad with Apples & Walnuts
Ingredients
⅓ cup Tuscan Herb Extra Virgin olive oil
3 tablespoons Red Apple Balsamic Vinegar
3 tablespoons maple syrup or honey
2 pinches kosher salt
Fresh ground black pepper
½ cup walnuts
1 head Savoy cabbage*
2 apples
½ cup Parmesan cheese shavings (or Pecorino Romano)
Instructions
For the dressing, whisk together Tuscan Herb Extra Virgin olive oil, Red Apple Balsamic vinegar, honey, kosher salt, and fresh ground black pepper.

If desired, toast the walnuts by placing them in a dry skillet over low heat for several minutes, stirring frequently, until slightly browned and fragrant. Immediately remove from the heat into a bowl.

Thinly slice the cabbage. Core 2 apples and chop them. (If not eating immediately, sprinkle the apples with a bit of lemon juice to prevent browning.) Using a vegetable peeler, shave the Parmesan or Pecorino Romano cheese.

To serve, place cabbage on a serving plate, then top with apples, walnuts, cheese, and dressing.