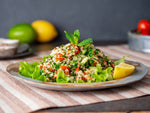 Ingredients
1 cup dry quinoa (3 cups cooked)
1 bunch Tuscan kale (also labeled as Lacinato kale, dinosaur kale, or cavolo nero)
15-ounce can chickpeas
¼ cup finely chopped shallot (or red onion or green onion)
1 bell pepper
2 carrots
¼ cup Herbes De Provence Extra Virgin olive oil
⅓ cup Prickly Pear Balsamic Vinegar
1 tablespoon Dijon mustard
1 small pinch curry powder*
1 large garlic clove, peeled and grated
½ teaspoon kosher salt plus fresh ground black pepper to taste**Instructions
Instructions
Make the quinoa: Go to Stovetop Quinoa or Instant Pot Quinoa. Make it in advance OR if serving immediately, bring the quinoa to room temperature: spread it in a single layer on a baking sheet and freeze it for 2 to 3 minutes until it cools.

Prep the kale: Chop the kale. Sprinkle the kale with 1 pinch kosher salt. Coat your hands with a few drops of olive oil and massage the kale leaves for 2 to 3 minutes until all pieces are tender.

Prep the other veggies: Finely chop the onion or shallot. Dice the pepper. Peel and dice the carrots.

Mix the dressing: In a medium bowl, whisk together the Herbes De Provence Extra Virgin olive oil, Prickly Pear Balsamic vinegar, Dijon mustard, curry powder, and grated garlic.

Mix the salad: Mix the quinoa and vegetables together with the dressing and the ½ teaspoon kosher salt and fresh ground pepper. Add more kosher salt to taste. Stores up to 3 days refrigerated (you may need to add a pinch of salt before serving since it looses saltiness over time).