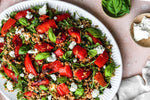 Ingredients:
3 large bell peppers (red, yellow, or orange)

1 Tbsp Rosemary extra virgin olive oil (to toss peppers in)

Salt + pepper

1 cup farro, dry

4 cups arugula

1/2 cup goat cheese

Approx. 8-10 leaves fresh basil, chopped (a large handful!)

1/4 cup 

Rosemary extra virgin

olive oil

1 lemon, juice only

1 Tbsp Elderberry balsamic vinegar

1 tsp garlic powder

1/2 tsp dried thyme

Salt + pepper, to tasted
Instructions:
Preheat oven to 400F. Bring a large pot of at least 3 cups of water to a boil.
Rinse farro in a sieve. Cook according to package instructions.

Cut peppers into quarters, removing core and seeds. Place on a large baking dish and toss in olive oil, salt, and pepper until evenly coated. Spread them on the baking sheet, cut side down, and roast in the oven for 15-20 mins. 

Meanwhile, make salad dressing by whisking together all dressing ingredients in a small bowl or tossing vigorously in a jar. (Rosemary EVOO, lemon juice, elderberry balsamic, garlic powder, thyme, salt+pepper)

Remove peppers from the oven and allow to cool slightly. Transfer to a cutting board and cut into smaller (approximately 1-inch) pieces.

Add arugula, cooked farro, peppers, basil, and salad dressing to a large salad bowl. Toss to combine, adding additional salt + pepper, if desired.

Crumble goat cheese overtop and then gently toss once more. Serve
Enjoy!