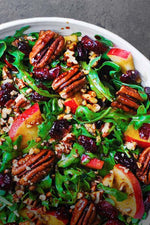 Ingredients:
5 ounces arugula

1 apple cored and diced (use large apples, such as Fuji or Gala)

½ cup pecans lightly toasted

½ cup cranberries dried

¼ cup Red Apple Balsamic vinegar
2 tablespoons Miller's Blend Extra Virgin Olive Oil
Instructions:
In a large bowl, add arugula, cored and diced apple, cranberries, and half of the toasted pecans (¼ cup).

Chop up the remaining half (¼ cup) of toasted pecan into small pieces. Set aside.
In a small bowl, combine Balsamic vinegar with olive oil, until emulsified.

Drizzle the Balsamic vinegar and olive oil mixture over the salad. Sprinkle the salad with chopped toasted pecans.

Note: you don't have to use the whole amount of salad dressing. Use just enough to drizzle.
Enjoy!