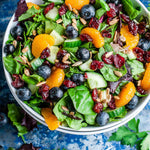 Spring Cucumber Blueberry Balsamic Salad
Ingredients:
2 cups blueberries

1 4-5 oz bag spring mix salad greens

1/2 English cucumber, chopped

1/2 cup mandarin orange segments

1/4 cup dried cranberries

2-4 TBSP roasted unsalted sunflower seeds

1/4 cup Blueberry balsamic vinegar

1/4 cup Cucumber balsamic vinegar

1 tsp salt I use sea salt

1/8 tsp black pepper
Instructions:
First make your dressing: In a food processor or blender, combine Blueberry balsamic vinegar, Cucumber Balsamic, and 1 cup of blueberries together. Blend until blueberries are completely pureed, and dressing is emulsified.

Chop and combine cucumber and blueberries, then toss with a drizzle or two of dressing in the salad mix of your choice. Add extra as desired.

Top with mandarin orange segments, dried cranberries, and sunflower seeds, salt and pepper. Pour remaining salad dressing over. Dressing can be refrigerated for 2-3 days. 
Enjoy!