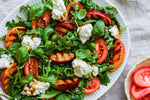 Burrata Salad With Nectarines & Blood Orange Extra Virgin Olive Oil
Ingredients:
2 medium nectarines (ripe, but not too soft/mushy)

1 Tbsp 

Blood Orange extra virgin olive oil 

(to brush nectarines)

2 medium heirloom tomatoes, sliced

4 cups arugula

1 ball burrata cheese

1 handful fresh basil, chopped

1/4 cup Blood Orange extra virgin olive oil

2 Tbsp Peach balsamic vinegar

1/2 a lemon, juice only

1 tsp honey

1 tsp garlic powder

Salt + pepper, to taste
Instructions:
Make balsamic vinaigrette by combining Blood Orange EVOO, Peach Balsamic, Lemon juice, honey, and garlic powder together in a small bowl or in a jar with a lid. Whisk together or shake jar to combine well. Adjust salt + pepper to taste. Set aside.

Wash and pat nectarines dry. Slice each nectarine into 8 even pieces. Brush each side of each nectarine slice with a little bit of olive oil (this helps to prevent sticking to the grill).

Heat grill or grill pan to medium. Place the nectarine slices on the grill. Let the slices sit, undisturbed, for about 4 minutes or until grill marks start to form. Flip each slice and repeat for another 4 minutes on the other side. Turn off heat when done.

Plate salad with arugula, sliced tomatoes, and grilled nectarines.
Gently cut burrata into pieces and arrange on salad (or serve as a whole ball). Sprinkle chopped basil over top and add dressing. Toss to combine and serve!