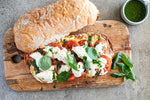 Ingredients:
1 ciabatta loaf

1 cup grated Mozzarella cheese

2 tomatoes sliced

1 ball buffalo mozzarella / fior di latte

2 tbsp basil pesto
Instructions:
Pre-heat the grill of the oven.

Split the ciabatta in half and drizzle with olive oil. Toast under the grill until golden brown.

Spread the pesto onto the bottom half of the bread and top with the grated mozzarella and tomatoes. Season the tomatoes then place under the grill again until the cheese is melted.

Remove from the oven then top with the fresh mozzarella, basil leaves (optional) and more pesto. Drizzle Balsamic Vinegar and Olive Oil over sandwich.

Top with the top half of the bread, slice and serve.
Enjoy!