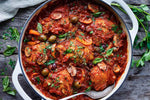 Ingredients:
6 bone-in, skin-on chicken thighs (or 4 large chicken breasts)

10 ounces mushrooms, sliced thin

6 cloves garlic (about 1/2 of a medium garlic head), coarsely chopped

1 bell pepper, cut in approximate 2-inch strips

1/2 teaspoon red pepper flakes

1/2 cup red wine

28 ounces crushed tomatoes

2 tablespoons tomato paste

1 teaspoon dried oregano

2 teaspoons fresh rosemary, chopped

1/2 cup mixed pitted green olives and kalamata (swap out with your favorite kinds

1 teaspoon capers, unrinsed

1 teaspoon sea salt (more or less to taste)

1/2 teaspoon ground black pepper

2 tablespoon fresh parsley, roughly chopped

a few fresh basil leaves

2-3 tablespoons Tuscan Herb Extra Virgin Olive Oil
2 tablespoons Red Apple Balsamic Vinegar
Instructions:
Pat the chicken dry. Season with salt and pepper. With a Tuscan Herb Extra Virgin Olive Oil and Red Apple Balsamic Vinegar sear chicken on medium high heat 3 minutes each side, until a gold crust forms. Set chicken aside. (If using chicken with the skin on, it will produce more oil, you can drain oil from pan, if needed, leave about a tablespoon or two in the pan.)

In the same pan, sauté onions, mushrooms in olive oil (or use left over chicken oil) for 3 minutes over medium heat. Add garlic, bell pepper and red pepper flakes, saute for 1 minute more.

Lower the heat and add wine, crushed tomatoes, tomato paste, oregano, rosemary, olives, capers, salt and pepper. Stir to fully combine.

Place seared chicken in the sauce. Simmer 25 minutes. Leave uncovered, though splatter screen is nice as it will sputter a bit. Test the internal temperature of the chicken, we are going for 165F. Simmer longer if needed. Bone-in thighs may take up to 35 minutes. Chicken breast will cook faster, 15-20 minutes.

Stir in fresh parsley and scatter fresh basil leaves over the top. Serve over pasta, creamy polenta or just enjoy with a crusty loaf of bread!
Enjoy!