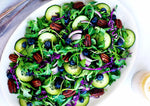 Arugula Blueberry Feta Salad with Blueberry Balsamic Vinegar and Meyer Lemon EVOO 
Ingredients:
Salad Ingredients:

8 Cups Arugula

2 Cups Spicy Pecan

1/2 Cucumber - thinly sliced or cubed

1 Cup Blueberries

1/2 Cup Red Cabbage - thinly sliced or roughly chopped

1/4 Red Onion - thinly sliced or minced

Feta - crumbled - to taste

Salad Dressing Ingredients

1/2 Cup of Blueberry Balsamic Vinegar
1/3 Cup of Meyer Lemon Extra Virgin Olive Oil
Salt and Pepper to taste

Spicy Pecan Ingredients:

2 Cups Raw Pecans

3 Tablespoons Maple Syrup

1/2 Teaspoon Hot Paprika or Cayenne Pepper

1 Teaspoon Sea Salt
Instructions:
Salad Dressing:
For salad dressing combine Blueberry Balsamic Vinegar and Meyer Lemon Extra Virgin Olive Oil together in a bowl and mix until fully combined. Add salt and pepper to taste.

Spicy Pecans:

Add everything to a cast iron or a saute pan and turn the on stove onto medium heat.

As soon as it starts to bubble or get hot, stir continuously.
In about 3 – 6 minutes they will start to get sticky.

When all moisture is gone, turn off the heat.

Spread onto parchment paper or a baking sheet. Don't worry about them sticking together, when cooled you can separate them.

Bake for 8 minutes and then transfer to a cooling rack.

Wait until they are completely cooled. They will harden and become crystallized.

For Salad:

Either mix everything together or layer them on a large platter starting with the arugula.

Dress individual salads to your liking.