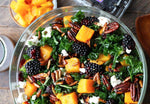 Roasted Butternut Squash and Blackberry Harvest Salad
Ingredients:
Instructions:
For the Kale
Place all ingredients for the kale in a large mixing bowl. Massage oil and salt into the kale with your hands for 3-4 minutes. Set aside.

For the Roasted Butternut Squash
Preheat the oven to 400ºF and spray a baking sheet with olive oil cooking spray.
Spread butternut squash out on the baking sheet. Add olive oil, salt, and pepper to the butternut squash and toss until squash is evenly coated.

Place the baking sheet into the oven for 20-25 minutes.

For the Candied Nuts and Seeds
Prepare a baking sheet by spraying with olive oil cooking spray.
Place all ingredients for nuts into a medium mixing bowl. Toss until nuts are evenly coated and then spread out evenly onto the baking sheet.

Roast for 8-10 minutes at 400ºF. You can roast the nuts in the oven with the squash.

For the Balsamic Dressing
Add all of the ingredients for the dressing into a mason jar. Tightly cover the mason jar and shake the jar to combine ingredients.

For the Salad
Add blackberries, goat cheese, cranberries, kale, nuts, and butternut squash into a large salad bowl. Pour dressing over the salad. Toss and enjoy!