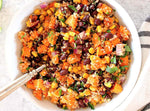 Roasted Sweet Potato Black Bean Quinoa Salad Recipe
Ingredients:
1.5 lbs sweet potatoes

1/2 teaspoon salt

1/4 teaspoon black pepper

1/2 teaspoon ground cumin

2 cups cooked quinoa

1 15 oz. can black beans rinsed and drained

1 15 oz. can whole kernel corn rinsed and drained

1 small red onion chopped

For the dressing:

2 tablespoons Sriracha White Mango Balsamic Vinegar

3 tablespoons lime juice

1/4 teaspoon ground cumin

1/4 teaspoon kosher salt

1/4 teaspoon ground paprika

1/4 teaspoon black pepper or chili powder

1 teaspoon minced garlic

1/2 teaspoon Tajin seasoning optional
Instructions:
Preheat oven to 400 degrees F. Line a large baking sheet with parchment paper.
Peel sweet potatoes. Slice into 1/2" thick disk and cut each into 4 or 6 pieces.

Drizzle olive oil over potatoes. Season with salt, pepper and cumin. Toss gently to coat.

Roast for 20 to 23 minutes. Remove from oven and cool.

In a large salad bowl, combine corn, black beans, chopped red onion, quinoa and potatoes.

In a small bowl or measuring cup, whisk together all the dressing ingredients. Pour over salad and gently toss.

Serve right away or cover with saran wrap and store in fridge for up to 4 days.
Enjoy!