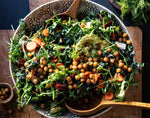 Sun-Dried Tomato Herb Salad with Crispy Chickpeas
Ingredients:
3 tablespoons raw pine nuts

1 tablespoon salted butter

1 (14 ounce) can chickpeas, drained and patted dry

kosher salt and black pepper

1 tablespoon chopped fresh oregano

1 head Tuscan kale, shredded

4 cups baby arugula

4 carrots, thinly sliced into rounds

1 (8 ounce) jar oil packed sun-dried tomatoes, oil drained and reserved, tomatoes chopped

1/4 cup fresh dill, roughly chopped

1/4 cup fresh basil, roughly chopped

2 tablespoons fresh chopped chives

6 ounces feta cheese, crumbled

1-2 avocados, sliced

Lemon vinaigrette:

juice from 1 large lemon (or 2 smaller lemons)

2 tablespoons Meyer Lemon Extra Virgin Olive Oil

1 teaspoon honey

pinch crushed red pepper flakes
Instructions:
Heat a large skillet over medium heat. Add the pine nuts and cook, stirring often, until the nuts are lightly golden and toasted, 2-3 minutes. Slide the nuts onto a plate.

To the skillet, add the butter, chickpeas, oregano, and a pinch each of salt and pepper. Cook, stirring occasionally until the chickpeas are crisped all over, about 5 minutes. Remove from the heat and set aside.

Meanwhile, in a large salad bowl, combine the kale, arugula, carrots, sun-dried tomatoes, dill, basil, and chives.

To make the vinaigrette. Whisk together the reserved sun-dried tomato oil, Meyer Lemon Extra Virgin Olive Oil, lemon juice, Balsamic Vinegar, and honey. Season with salt, pepper, and crushed red pepper flakes.

Pour the vinaigrette over the salad, tossing to combine. Top the salad with crispy chickpeas, feta, and avocado. Enjoy!