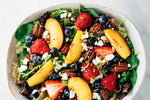 Summer Fruit Salad with Peach Dressing
Ingredients:
Peach Salad Dressing:

1 cup yellow peach, ripe, sliced

2 teaspoons lemon juice, plus zest of 1 lemon

2 tablespoons water

2 tablespoons Peach Balsamic Vinegar

1 tablespoon honey, agave nectar or maple syrup (optional)

1 ½ teaspoons poppy seeds

Fruit Salad:

5 ounces spring mix salad, or your choice of greens, (about 10 lightly packed cups)

1 peach, sliced into wedges

1 cup strawberries, sliced

½ cup blueberries½ cup pecans

2 tablespoons goat cheese
Instructions:
Peach Salad Dressing:
Add 1 cup sliced peaches, lemon juice, zest and water to your blender. Blend until smooth puree forms, about 30 seconds.
Slowly drizzle in the olive oil and balsamic vinegar while the blender is running, mix for 30 seconds. Taste the dressing and add sweetener if desired, mix 15 seconds. Add poppy seeds and blend for 10 seconds just to mix in the seeds. Set aside.

Fruit Salad:
In a large bowl add salad greens.
Top with peaches, strawberries, blueberries, pecans, and goat cheese. Serve with peach salad dressing on the side. If you're mixing the salad before serving, you may not need all of the dressing. Add the desired amount to coat the greens.
Enjoy!