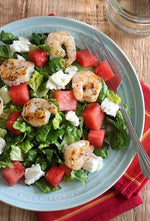 Grilled Shrimp & Watermelon Chopped Salad with Pink Grapefruit Balsamic
Ingredients:
1 tsp water

1 tbsp chopped shallots

1/8 th tsp kosher salt

pinch fresh black pepper

10 oz shelled and deveined, about 24 large shrimp

1 clove garlic crushed

seasoned salt, to taste (I used Montreal Steak Grill Mates)

8 cups chopped romaine

4 cups diced watermelon

4 ounces soft goat cheese
Instructions:
In a small bowl, combine balsamic vinegar, water, shallots, salt and pepper.
Gradually add olive oil, stirring until incorporated.

For the shrimp: If cooking outside on the grill, soak wooden skewers at least 30 minutes.

Season shrimp with seasoned salt, then mix in crushed garlic.
Thread the shrimp onto the skewers.

Light the grill or indoor grill pan on medium to medium-high flame, when hot spray the grates with oil and grill the shrimp about 1 to 2 minutes on each side. Set aside.

In a large bowl toss the romaine with the dressing.

Divide between four plates and top with watermelon, goat cheese and grilled shrimp.