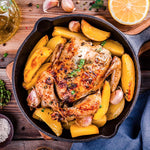 Spicy Chicken with Roasted Sweet Potatoes & Asparagus
Ingredients:
1 ( 3 1/2-to-4 pound) whole chicken, spatchcocked (back removed and chicken flattened)

Kosher salt and freshly ground black pepper

1/4 c. chili-garlic sauce

1 tsp. lime zest plus 2 tablespoons juice

1/2 tsp. grated fresh ginger (from a 1-inch piece)

2 tsp. pure honey

1 lb. sweet potatoes, cut into 1-inch chunks

1 tbsp. coriander seeds, crushed

1 lb. asparagus, trimmed and halved

Fresh cilantro, for garnish
Instructions:
Preheat oven to 425°F. Place chicken, breast side up, on a rimmed baking sheet. Season with salt and pepper.

Combine chili-garlic sauce, lime zest and juice, and ginger in a bowl. Transfer half the mixture to a second bowl (about 3 tablespoons) and stir in honey; set aside. Brush remaining mixture over chicken. Roast 20 minutes.

Toss together potatoes, oil, and coriander in a bowl. Season with salt and pepper. Scatter around chicken. Roast until an instant-read thermometer inserted in the thickest part of the thigh registers 165°F, 18 to 20 minutes. Season asparagus with salt and add to pan. Roast until asparagus is tender, 8 to 10 minutes. Let chicken rest 5 minutes before carving.

Serve vegetables and chicken garnished with cilantro and reserved sauce alongside. Drizzle Sriracha Balsamic Vinegar over plated meal.