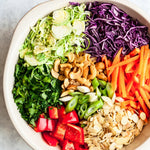 Strawberry and Blood Orange Cashew Shredded Brussels Sprouts Salad
Ingredients:
1 pound brussels sprouts, end trimmed and any yellow outer leaves removed

4 cups shredded red cabbage (also known as purple cabbage)

1 ½ cups shredded carrots (from the bag) or carrots cut into small matchsticks*

1 red bell pepper, diced

1 bunch cilantro, chopped

1/2 cup diced green onion

3/4 cup salted roasted cashews

1/2 cup toasted sliced almonds

1/2 Cup of Strawberry Balsamic Vinegar
1/2 Cup of Blood Orange Extra Virgin Olive Oil
Instructions:
Shave the brussels sprouts by using a food processor with the slicing attachment and pulse until the brussels sprouts are thinly sliced.

Add shaved brussels sprouts to a bowl, along with shredded red cabbage, shredded carrots, red bell pepper, cilantro and green onion. Top with cashews and toasted almonds.

Make the dressing by whisking together the Strawberry balsamic and blood orange extra virgin olive oil.

Drizzle over the salad and use tongs to toss the salad together so that the dressing coats all of the brussels sprouts and cabbage.
Garnish salad and enjoy!
Serves 4-6.