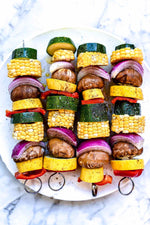 Strawberry Balsamic Glazed Grilled Vegetables Skewers
Ingredients:
1 ear corn , husk removed

1 zucchini

1 yellow summer squash

1/2 red bell pepper , seeded and cored

1/2 red onion

8 brown mushrooms

2-3 tablespoons of Strawberry balsamic vinegar

1 teaspoon kosher salt

1/2 teaspoon freshly ground black pepper
* If certain vegetables are out of season, feel free to replace with in season vegetables.
Instructions:
Prepare the grill with clean grates and preheat to medium heat, 350°F to 450°F. If using wooden skewers, prepare them by soaking in water for 10 minutes. If using metal skewers, no prep is necessary.

Cut the vegetables into 1/2" slices or chunks. Thread the vegetables on the skewers alternating the veggies, until you've reached the end of the skewer.
Drizzle the vegetables with tuscan herb extra virgin olive oil, Strawberry balsamic vinegar, and sprinkle evenly with salt and pepper.

Grill the vegetables with the lid closed until tender and lightly charred, turning every 3-5 minutes. Serve warm or at room temperature.
Enjoy!