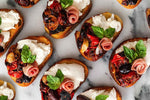 Bruschetta with Burrata, Traditionale Balsamic Vinegar, and Seared Tomatoes
Ingredients:
1 head of garlic

1½ cup cherry tomatoes

5 slices prosciutto

¼ cup kalamata olives

Italian herb seasoning – a small sprinkle

1 loaf rustic Italian bread

16 oz. burrata – or fresh mozzarella

basil – for garnish

salt & pepper
Instructions:
Preheat oven to 375 F., and peel a full head of garlic. Remove all of the cloves. Slice off the little ends, and slice the large cloves either in half or in thirds. 

Place the garlic in a small bowl with 3 tbsp. of olive oil and a liberal sprinkle of salt and pepper. Gently stir to fully coat garlic in oil. Create a flat "bowl" of foil on a baking sheet or Pyrex that's large enough that the garlic can lay without overlapping, and all of the oil stays contained.
Roast garlic for 20-25 minutes (watching it carefully after 15 minutes and removing when it's golden brown).

While the garlic roasts, place 1½ cups of cherry tomatoes in a pan with 2 tbsp. of olive oil on the hottest burner. Swish them around in the pan to ensure they're coated in oil.
Cover them with a lid. Turn the heat to medium-high, and allow them to cook for 7-8 minutes without stirring them in the pan, or moving them at all. Lift the lid periodically to allow steam to release.
Once the tomatoes are done, unstick them from the pan with a spoon and let them sit in the pan until the garlic is ready.

Once the garlic is golden brown, remove it from the oven and drain the oil into a bowl to save for later. You'll use this garlic oil to dip your bread into before toasting.

Add roasted garlic and ¼ cup of kalamata olives to the pan with 2 more tbsp. of olive oil, 1 tbsp. of balsamic vinegar and a small sprinkle of Italian herb seasoning. Turn the heat to medium and gently sauté the ingredients for 5 minutes, making sure not to break up the tomatoes.

If you intend to serve the bruschetta cold, place the topping in a container and allow it to cool for 45 minutes to an hour in the refrigerator.

Remove a slice of prosciutto as carefully as you can from the package so it does not stick to other pieces. Use kitchen scissors to cut the piece into 4 smaller pieces. Fold each piece in half and roll each piece into a pretty rose. Do the same to another piece so you have 8 roses. Set aside.

Pre-heat your oven or toaster oven to 350 F., and slice bread into ½ inch slices. Add 2 more tbsp. of olive oil to the garlic oil you set aside and pour onto a plate. Dip each bread slice into the garlic oil. Toast breads for 15 to 20 minutes.

Lay your garlic toasts down and add a very nice helping of burrata on the right side of each one. Spoon the tomato topping on the right side of the toast, making sure to get a little tomato, garlic and olives on each one. Top with a little prosciutto rose and basil, and serve.
Finish my drizzling more Traditionale Balsamic Vinegar on top.
Enjoy!