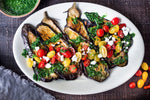 Herbes De Provence Eggplant Steak with Black Currant Balsamic Vinegar
Ingredients:
1 large or 2 medium/large eggplants – sliced into ½ inch slices

salt and pepper

2 tbsp Herbes De Provence herb mix

1 pint cherry or grape tomatoes, halved

crumbled goat or feta cheese
Instructions:
Preheat Grill to medium high

Slice eggplant into ½ inch thick slices. Brush both sides with Herbes de Provence extra virgin olive oil, salt, Herbes De Provence herb mix and grill each side for 4-5 minutes, or until good grill marks appear. Remove from grill and stack them in a baking dish or bowl and cover tightly in foil so they continue to cook all the way through and become translucent.

Toss the tomatoes with a pinch of salt, pepper, and a little drizzle of remaining olive oil.

Lay the eggplant steaks down on a serving dish. Drizzle Black Currant Balsamic Vinegar . Top with the tomatoes.
Enjoy!