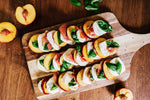 Ingredients:
8 Ripe Peaches

12 oz Fresh Mozzarella, Thinly Sliced

3-6 oz Prosciutto

Maldon Salt

Fresh Ground Pepper
Instructions:
Measure balsamic vinegar and pour into a small saucepan. Bring to a gentle boil over low heat. Heat until reduced to a thick glaze (resembling maple syrup). This will take about 15 minutes. Turn off heat and let the reduction cool to room temperature.

To assemble the salad, cut the peaches into thick slices (be sure to cut around the pit!) Arrange on a large cutting board, alternating with the mozzarella slices, basil leaves, and a slice of prosciutto cut into 2″ pieces.

Drizzle the balsamic reduction over assembled salad, followed by a thin stream of olive oil over the salad. Finally, sprinkle on salt and pepper.
Enjoy!