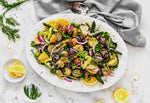 Lemon Herb Asparagus Potato Salad
Ingredients:
2 ½ lbs. red and white baby potatoes, cut in half

1 bunch of asparagus

½ red onion, finely diced

12 raw cashews, soaked

2 garlic cloves

5 Tablespoons water

1 Tablespoon unsweetened almond butter

1 teaspoon garlic powder

½ teaspoon onion powder

1 teaspoon dried minced onions

2 teaspoons fresh dill weed, chopped

1 teaspoon chives, chopped

Zest of one lemon, approx. ½ teaspoon 

½ teaspoons sea salt

¼ teaspoon black pepper 
Instructions:
Soak the cashews by placing the cashews in a bowl, then add boiling water just to cover them. Soak for 20 minutes, then discard the water.

Slice the baby potatoes in half, then rinse them in a colander to remove as much starch as possible. Place the baby potatoes in a large stock pot, cover with cold water, place them on the stove, and bring to a boil, then immediately lower the heat to a low boil. Boil for 25 to 35 minutes or until fork tender. Do not use a rolling boil. Gently boil the baby potatoes to preserve the potato shape and integrity. 

When the potatoes are tender, drain the water, and gently lay them out on a cookie sheet to cool to room temperature.

In the meantime, snap off the tough ends of the asparagus, then cut the asparagus into 3rds on the diagonal. Steam the asparagus for 5 minutes or until desired tenderness is achieved. Gently lay the steamed asparagus out on a plate or cookie sheet until room temperature.

Prepare the Lemon-Herb dressing by placing the soaked cashews, garlic, Meyer Lemon Extra Virgin Olive Oil, water, white balsamic vinegar, Maple Balsamic Vinegar, onion powder, garlic powder, minced onion, sea salt, and black pepper into a high-speed blender. Pulse until everything is creamy and well blended. Then place the salad dressing into a small bowl and whisk in the fresh dill weed, chives, and lemon zest. Allow to sit for 5 minutes for the herbs to marry with the dressing, then taste test the dressing. Adjust seasonings as needed.
Do not dress the salad until ready to serve. If serving this salad later, or the next day, refrigerate the veggies and dressing, bring everything to room temperature before dressing. Gently place the room temperature cooked potatoes, asparagus, and diced red onions into a large bowl. Gently stir in the Lemon-Herb Salad dressing until everything is well coated.
Enjoy!