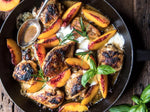 Ingredients:
1 1/2 pounds boneless chicken breasts or thighs (of equal size)

2 tablespoons Peach Balsamic Vinegar

1 tablespoon fresh chopped rosemary

zest of 1 lemon

kosher salt and black pepper

1/4 cup all-purpose flour

4 slices thick cut bacon, chopped

3/4 cup dry white wine, such as Pinot Grigio or Sauvignon Blanc

2 peaches, sliced

1 tablespoon honey

8 ounces fresh mozzarella, torn

fresh basil, for topping
Instructions:
Preheat the oven to 425 degrees F.

Rub the chicken all over with Rosemary extra virgin olive oil, peach balsamic vinegar, rosemary, lemon zest, and season generously with salt and pepper.
Sprinkle the flour evenly over the chicken and toss to coat, adding more flour if needed to cover the chicken.

Heat a large oven safe skillet over medium high heat and cook the bacon until crisp. Remove the bacon from the pan and drain onto paper towels.

Add the chicken to the pan and sear on both sides until golden, about 5 minutes per side. Reduce the heat to medium low and pour in the wine and 1/4 cup water. Simmer the chicken for 5 minutes, until cooked through.
Add the bacon back to the skillet. Arrange the peaches and mozzarella evenly around the chicken and drizzle the honey over the peaches.
Transfer the skillet to the oven and roast for 5 minutes, then broil until the peaches are just charred and the cheese has melted, about 1 minute.

Serve the chicken topped with peaches and drizzle over any pan sauce and top with basil.
Enjoy!