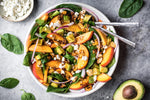 Summer Peach Spinach Salad with Strawberry Balsamic Dressing
Ingredients:
4-6 cups organic spinach

2 large peaches, sliced

1 avocado, diced

1/2 small red onion, very thinly sliced

1/2 cup goat cheese crumbles

1/2 cup sliced toasted almonds

1 garlic clove, minced

1/2 teaspoon dijon mustard

Salt and pepper, to taste
Instructions:
In a medium bowl, whisk together the balsamic vinaigrette: balsamic, olive oil, minced garlic, dijon and salt and pepper.

In a large bowl, add the spinach. Drizzle with desired about of balsamic vinaigrette and toss together to combine.
Top salad with peach slices, diced avocado, red onion, goat cheese crumbles and toasted almonds. Toss very gently again. Serve immediately. Salad serves 4.
Enjoy!